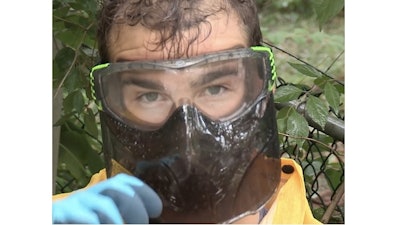 Whether it's foul, nasty, or painful debris, sparks, or liquid sprayback, when the situation hits the fan, workers can reach for Vader Combo from Brass Knuckle (Alpharetta, GA). It covers the whole face, protects the neck, and puts yuck in its place. When you're leading with your face straight into the dark side, it's the protection workers need.
Vader Combo has industry-leading BK-Anti-Fog (protection that lasts 15 times longer than EN 166/168) for the best visibility available. Its integrated face shield offers 180-degree peripheral vision and face coverage. Ultra-soft, conditioned rubber forms a splash barrier. Because the face shield isn't attached to a hard hat, it provides unprecedented mobility and visibility — the shield goes wherever the wearer's head goes.
The ANSI-rated, military-style splash goggle also includes a durable anti-scratch treatment and is D3 rated for droplet and splash protection. The built-in venting system helps reduce the potential for moisture buildup, helping to maintain clear vision.
www.brassknuckleprotection.com, 770-674-8930