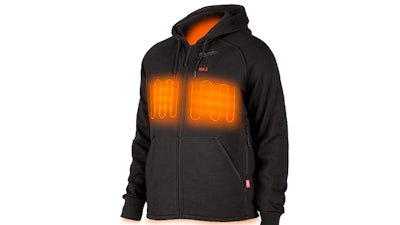 Milwaukee (Milwaukee, WI) announces its 2022 Men's and Women's Heated Gear lineup, featuring next-generation Jackets, Vests and Hoodies constructed to withstand harsh and cold jobsite conditions. Each user-driven, ground-up design utilizes an advanced heat technology system with carbon fiber heating elements providing warmth no matter the situation. With functional garment evolutions, re-engineered materials and a total portfolio battery upgrade, optimal protection and comfort has been delivered through this release of the M12 TOUGHSHELL Jacket and Vest, next-generation Men's & Women's M12 Heated AXIS Jackets and Vests, and Men's & Women's M12 Heated Hoodies.
M12 TOUGHSHELL Jackets and Vest:

The M12 Heated TOUGHSHELL Jacket and new-to-market M12 Heated TOUGHSHELL Vest deliver heat built to outlast with 80% more stretch and 5X longer life than previous generations. The re-engineered materials offer better mobility and flexibility while maintaining their heavy-duty durability. With 3X faster heat, enhanced garment constructions, and optimized interior liners, the heated TOUGHSHELL program adds comfort, mobility and protection on any jobsite. The warm insulation and DWR-coated material offer wind and water-resistant solution for protection from the elements.

M12 Heated AXIS Jackets and Vests:

This next generation of M12 Heated AXIS Jackets and Vests deliver heat built for lightweight durability. Redesigned to reach 3X faster heat, these heated products utilize lightweight and durable carbon fiber heating elements to bring comfort and warmth to the jobsite. A hidden battery pass-thru pocket construction allows for front or back battery placement, increasing comfort and flexibility depending on the task.

M12 Heated Hoodies:

Now available in both Men's and Women's versions, the M12 Heated Hoodie delivers heat built for complete comfort combining a durable cotton/polyester fleece and comfortable jersey lining with a closer-to-body fit. The raglan sleeve construction and 4-way stretch fabric allows for free range of motion. Featuring 3X faster heat-up time and multiple heat temperature settings, Milwaukee's M12 Heated Hoodies provide a versatile, three-season solution to keep heat in and not add bulk.
www.milwaukeetool.com, 800-SAWDUST