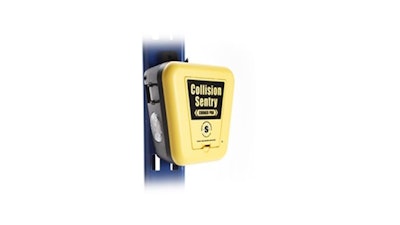 Sentry Protection Products (Lakewood, OH) announces the release of the Collision Sentry Corner Pro 211, the latest model of the company's award-winning collision warning system.
The industrial environment is a noisy place. To be effective, an audio alarm needs to rise above the background noise to be heard. The volume on the earlier model (200) was set high enough to do that. But there are some circumstances – in very high noise areas – where the volume needs to be even louder.
The high volume on the Collision Sentry Corner Pro 200 is now the low volume on the Collision Sentry Corner Pro 211, and the new 211 model high volume setting is double the volume of the low setting. There is still the option to turn the sound off completely if that better fits the situation.
Sentry was able to boost the volume without compromising a significant amount of energy efficiency or battery life. The audio alarmed in synchronization with the video alarm makes for a powerful deterrent to blind corner accidents.