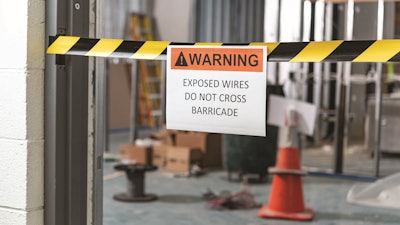 HellermannTyton (Milwaukee, WI) announces Punch List Markers and Temporary Signs, two identification products targeted to contractors performing construction, interior touch-up or maintenance. Both products are exclusive to HellermannTyton. They use a high-performance, temporary adhesive to bond to walls and most other surfaces, staying in place up to 90 days outdoors. Removal will not damage the surface or leave adhesive residue. Specifically:
Punch List Markers come in a pocket-sized book, each adhesive marker measuring 2" x 1". They enable repair and maintenance contractors to create and track punch list items such as repairs to newly painted walls following inspection. The high-visibility yellow color ensures markers are easy to spot.
Temporary Signs measure 8.5" x 11", with a micro-perf to split each one into two 8.5" x 5.5" signs if desired. They are ANSI-compliant, making them ideal for creating temporary warnings or safety signage. The unique surface material resists moisture and chemicals yet can be printed with a standard inkjet or laser printer.
www.hellermann.tyton.com; 800-537-1512