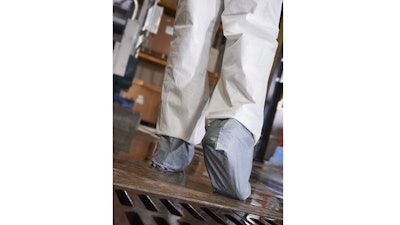 Slips, trips and falls account for 35 percent of all workplace incidents in the U.S. and more than 95 million lost workdays per year. The new and improved boot material on Kimberly Clark (Roswell, GA)'s KleenGuard A30 and A45 Coveralls can help reduce these risks. Features include:
Better traction.
Better durability.
Better visual compliance.
KleenGuard protective clothing is designed with human-centric engineering that enables rather than inhibits – allowing for maximum productivity and safety. Additionally, KleenGuard A30 and A45 Coveralls with Skid-Resistant Boots can be diverted from landfills through The RightCycle Program, the first large-scale recycling program for non-hazardous lab, cleanroom and industrial waste. The RightCycle Program turns used apparel, gloves and protective eyewear into new consumer goods.
www.kcprofessional.com/kleenguardpower