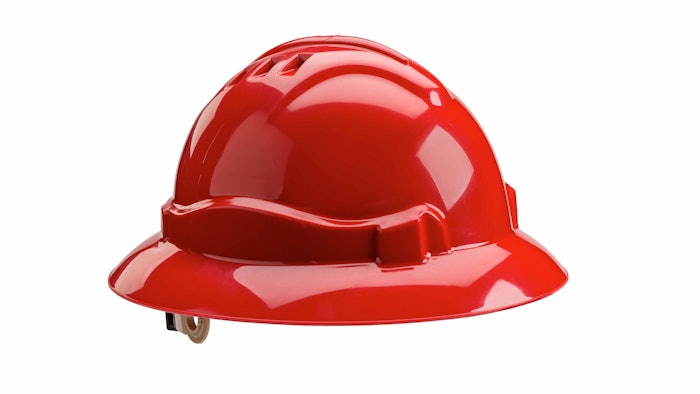 The Serpent safety helmet family by Gateway Safety (Cleveland, OH) now includes a full brim version. The new product extension features the same sleek design as the original cap style safety helmet, with a wraparound brim to provide 360 degree sun and rain protection for workers in the field. Both vented and unvented models offer unique benefits. The vented version is great for those working in hot environments, as it allows heat buildup to escape through the vents in the shell, keeping workers cooler. For anyone working around electrical safety risks, the unvented Serpent is an ideal Class E head protection solution. Features include:
A high quality suspension system, with eight points and six straps for exceptional comfort and impact absorption.
A cloth brow pad and unique rotating ratchet adjustment, which makes the helmet extremely easy to wear.
Availability in white, yellow, red, blue, green, hi-viz orange and hi-viz limon.
Like the cap style, the full brim Serpent has been independently tested to meet ANSI Z89.1, Type 1. The vented version meets Class C and the unvented model meets Classes E, G & C. Serpent full brim helmets also meet the ANSI Z89.1 voluntary standards for lower temperature, higher temperature and high visibility (hi-viz limon and orange colors).
http://gatewaysafety.com/products/head/serpent-fullbrim-c/; 800-822-5347