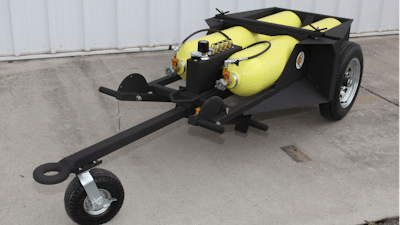 Air Systems International, Inc. (Chesapeake, VA) introduces its new Breathing Air Transporter (BAT). Designed and built with the versatility the industry demands, the BAT holds 2 large breathing air cylinders with a 4-outlet breathing air manifold and can be manually pushed, towed with a vehicle, fork lifted or hoisted where breathing air is required. The cart supports the weight of the cylinders and the standing position offers a small storage footprint and makes it easier to exchange cylinders as needed. Features Include:
A powder coated steel frame.
4 outlet breathing air manifold with regulator, pressure gauges, relief valve and low pressure alarm whistle.
Universal CGA-346/CGA-347 wrench tight connectors, allowing use of 2,400 psi or 4,500 psi cylinders.
Pneumatic tires.
Lunette ring for Pintle Hitch connection.
Fork lift guides.
Center Lift Eye - load certified.
Four strategically positioned padded handles for ergonomics and safety.
www.airsystems.com; 800-866-8100