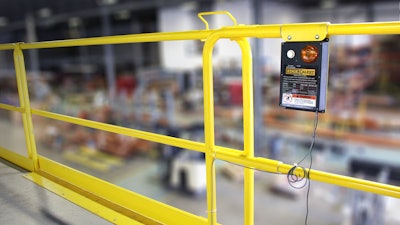 Wildeck, Inc. (Waukesha, WI) has been awarded U.S. Patent No. 9,834,975 for its innovative "Hazard Alert Device for Elevated Barrier," know commercially as Wildeck's EdgeAlert Open Gate Alarm System.
In today's busy distribution centers, warehouses and manufacturing facilities, an open gate on an elevated mezzanine level is a serious safety concern that could result in an employee falling and sustaining severe injury, including broken bones, lacerations or even death. For every elevated application where an open gate situation could occur, an early warning device such as Wildeck's EdgeAlert Open Gate Alarm System could make all the difference. When properly installed, the EdgeAlert alarm will signal an open gate condition with a highly visible flashing light and a loud audible alarm. Use of Wildeck's EdgeAlert Open Gate Alarm System can also assist facilities in compliance with federal and state safety regulations.
The EdgeAlert alarm is easy to operate and can be installed on new or existing swing gates, slide gates, tilt gates and scissor gates.
www.wildeck.com; 262-549-4000