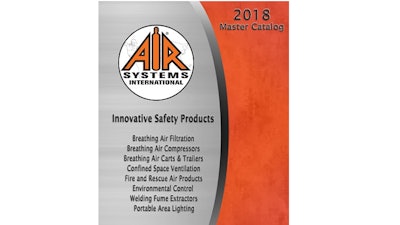 Air Systems International, Inc. (Chesapeake, VA) introduces its new 2018 Master Catalog in print and digital forms. Product categories include:
Grade-D Air Filtration – portable, panel mounted and custom Grade-D air filtration.
Breathing Air Compressors – plant and portable Grade-D breathing air systems.
High Pressure Breathing Air – fill compressors, fill assemblies, and containment fill stations.
Air Cylinder Carts – small & large cylinder air carts, Breathing Air Transporter.
Custom Breathing Air Systems – custom carts, trailers, and plant filtration systems.
Fire & Rescue – air distribution for breathing, filling air cylinders, and rescue applications.
Ventilation – complete line of blowers & fans and confined space ventilation kits.
Portable Area Lighting – DC powered area lighting, including the award winning Air-Light II XP and Air-Light 8600 portable area lights.
Environmental Control – fume extractors and HEPA vacuums.
The new catalog includes 11 pages of reference materials including Breathing Air Basics, Sizing a Type-C/CE Airline Filtration System, Blower & Fan Selection Guide, Axial Fan vs. Centrifugal Blower, Certified For Safety – Certifications, Confined Space Ventilation Safety Tips, Confined Space Purge Time Estimating Chart, and Understanding Quick Connect Fittings.
To request a 2018 Master Catalog, please visit www.airsystems.com/index.php/catalog-request.
www.airsystems.com; 800-866-8100