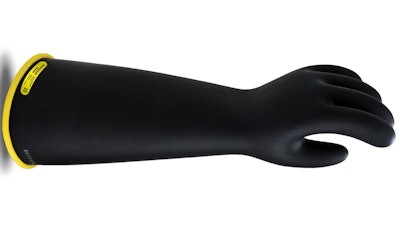 Honeywell
Honeywell (Lincolnshire, IL) has launched "connected ready" electrical safety lineman gloves, which use embedded tracking technology to ensure gloves are always properly tested and certified before linemen use them for the most hazardous of electrical work. The new Electriflex safety gloves include an optional embedded RFID tag, which helps ensure the gloves meet safety requirements when worn by linemen working on power lines carrying up to 35,000 volts of electricity. Additional features include:
RFID, when used with Honeywell's Safety Suite software, which allows companies to track and manage inventory, automate safety compliance reporting, and better protect line workers.
The RFID tag used in the new gloves is a patented, non-metalic material that permits scanning of information even when the tag is bent or stretched.
The ability scan the glove and access a record of manufacturing history, including type of equipment, class, date of manufacture, test dates and sources, insulating material composition and other information.
Data that can be compiled automatically into reports, eliminating manual audits and data logs, creating a birth-to-death history of the product that can be accessed on a smart phone or other mobile device.
For more information, visit http://www.honeywellsafety.com.