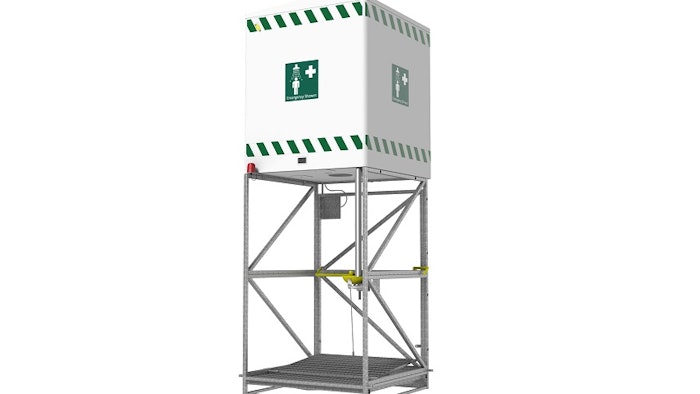 Speakman Company (New Castle, DE) has introduced the Gravityflo Emergency Tank Shower, the newest addition to the Gravityflo Emergency Shower and Eyewash product line. This new Emergency Tank Shower safety product is designed with a mammoth 2,000 liter (528-gallon) tank to solve the dilemma faced by many project managers about compliance with worker safety standards on a job site with no running water or inadequate water pressure. The Gravityflo Emergency Tank Shower features include:
A 528-gallon/2,000-liter capacity.

An integral heater that maintains water temperature in the Tepid Range of 60F - 100F.

No dependency on a plumbed water source.

An integrated emergency eyewash with plastic bowl with push-handle activator.

A stainless steel showerhead and PIR activated area light.
UL-Approved electrical components.
ANSI/ISEA Z358.1 Certified.
Applications for the Speakman Gravityflo Emergency Tank Shower include job sites without running water and environments where water may be shut off temporarily. Additionally, this emergency tank shower is an ideal unit for older facilities or sites where the pipes cannot produce the 20 gpm flow requirement. 
www.Speakman.com; 800-537-2107