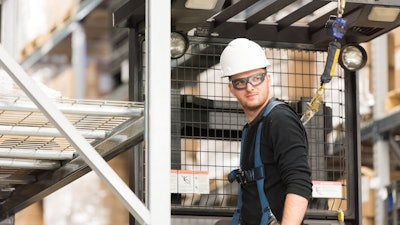 3M
The 3M Personal Safety Division (St. Paul, MN) has expanded its SecureFit Protective Eyewear line by offering more features and deeper personalization with the debut of the new 600 Series. New options include:
Scotchgard Anti-Fog Coating, which helps provide long-lasting clarity to help the eyewear retain its effectiveness for at least 25 washings with water (based on internal testing per EN168 test method). Rugged anti-scratch (RAS) coating to help extend the life of the lens.
Photochromic lenses that darken when exposed to UV light outdoors and lighten when removed from UV exposure indoors.
Polarized lens to reduce reflective glare; commonly used in outdoor applications.
Task-specific lens tints that help reduce glare, eye stress and fatigue in a variety of applications.
Lens options in various colors (clear, grey, amber, indoor/outdoor grey) and shades (Low IR, Shade 3.0 and Shade 5.0).
Readers with Scotchgard Anti-fog coating that come in a range of diopters: +1.5, +2.0 or +2.5.
Standard features include:
Pressure Diffusion Temple (PDT) Technology, which allows for a secure, comfortable fit and the ability to self-adjust to head size.
Polycarbonate lenses that absorb 99.9 percent of UVA and UVB rays and meet the requirements of ANSI Z87.1-2015 Standard as an Impact Rated spectacle.
An optional removable foam-lined gasket to keep debris out of the eyes while providing comfort and cushioning.
A lightweight design and sturdy frame.
For more information, visit www.3M.com/SecureFit.