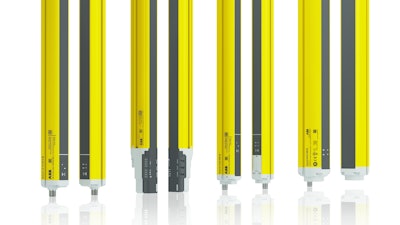 ABB
Orion Safety Light Curtains from ABB Jokab Safety Products (Memphis, TN) offer a simplified selection of functions and settings. Features include:
A design to have as few settings and functions as possible.

Active optoelectronic protective device (AOPD) protection.

A local reset button connected directly to the light curtain, which eliminates the need for a cable connection to the electrical cabinet or an extra control module.

External device monitoring enables actuator monitoring.

An extended model that offers a muting feature, which enables material, including pallets, to pass through the curtain without stopping the machine, while still preventing personnel from entering the hazardous area.

Availability in finger- and hand-detection models (Orion 1), two-, three- or four-beam models (Orion 2), and transceiver light-grid models (Orion 3), which reduce wiring.

A range of accessories, including mounting columns, mounting brackets, deviating mirrors and wash-down tubes with IP69K ratings for food and beverage processing applications.
For more information, visit http://new.abb.com/low-voltage/products/safety-products/optical-safety-devices.