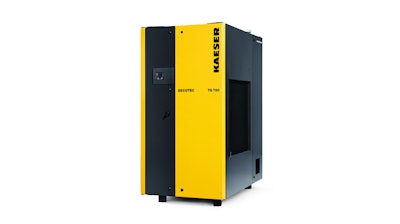 The innovative SECOPACK LS thermal storage system from Kaeser (Fredericksburg, VA) contains a phase-changing material (PCM) that is 98% denser than conventional storage media. Thermal energy is stored as the PCM cycles from a solid to a liquid state, enhancing energy efficiency. According to the company:
TG dryers also have the advanced R-513A refrigerant which has 60% lower global warming potential and decreases refrigerant weight significantly.
These features make the SECOTEC TG units up to 60% lighter than other thermal storage dryers. Plus, these units have a smaller footprint, making them perfect for facilities where space is limited.
SECOTEC TG units feature a variable speed radial fan design that further enhances energy efficiency, extends fan life and enables dryer exhaust ducting. A dedicated fan in the electrical cabinet provides cooling in high heat environments.
With SIGMA CONTROL SMART, a microprocessor-based controller which controls the thermal storage process, remote on/off control capability and an optional Ethernet interface for connecting to a master control system, TG units can be easily integrated into plant operations and IIoT environments.
us.kaeser.com/cleanair; 877-417-3527