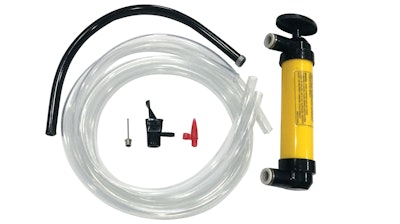 Lumax
The LX-1345 from Lumax (Fort Mill, SC) is a versatile multi-use pump. The pump allows for a fast transfer of gas, oil, air and other fluids when needed. Ideal for use on a variety of small engines, including light commercial equipment, it drains up to 3 gallons per minute for fast transfers that are mess-free. Additional features include:
Long intake and output hoses.
A 16-inch air pressure hose.
An air chuck.
An inflator nozzle.
An inflating needle.
Not recommended for use with corrosive chemicals, strong solvents, or any fluids with a viscosity greater than 2000 SSU.
For more information, visit www.lumax.com.