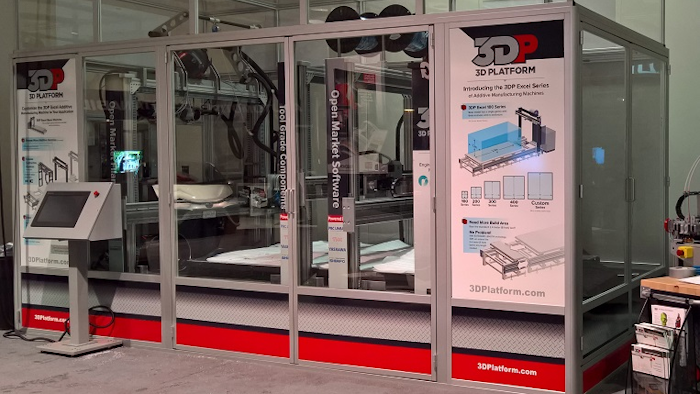 3DP
Today, at IMTS 2016, 3D Platform (3DP) (Roscoe, IL) unveiled the Excel Series Platform which introduces a parallel gantry configuration that can support multiple simultaneous processes, including additive, subtractive, and robotics. The Excel 100 Series features: 
A 4' x 4' x 8' (1.2 x 1.2 x 2.4 m) build area.
An array of high-volume extruder systems that realize a material throughput capacity from 2kg/hr to as high as 55 kg/hr per gantry.
Parallel gantries and a combination of additive, subtractive, and robotic configurations.
The ability to extend the build area to virtually any length (100+ m).
Industrial design created in partnership with PBC Linear, Xtrution, THK, Yaskawa,
and Shimpo to shape linear guides and multiple gantry systems, while powering motion control
and industrial robotics technology.
The Excel Series is on display at IMTS 2016 in Chicago, IL at Booth W-10.
For more information, visit http://3dplatform.com/.