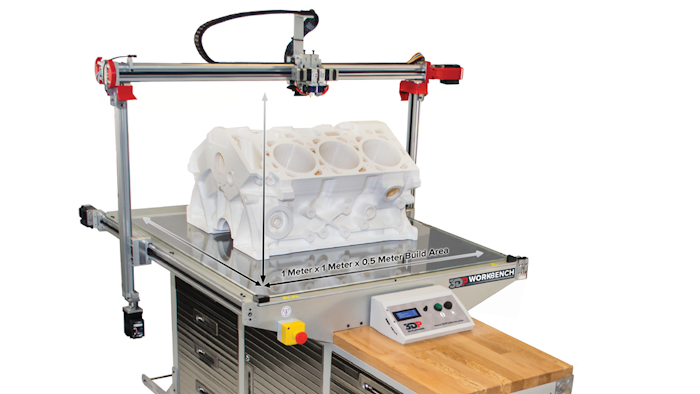 3DP
3D Platform (3DP) (Rockford, IL), a manufacturer of large format 3D printers, has launched the 3DP Workbench, a new industrial-strength, large-format 3D printer. The 3DP Workbench comes standard with the large build area of 1 m x 1 m x 0.5 m, and is built on industrial strength mechatronics designed to deliver precision prints down to a 70-micron layer resolution. Additional features include:   
SurePrint Servo Technology: SurePrint Servo motors generate 85% greater torque, which allows faster acceleration and deceleration, and improves print accuracy and quality.
Folding Gantry: A unique, two-part configuration that will fit through a single-width door to make it possible to conveniently locate.
Expanded Print Capabilities: The ergonomic height and open print bed enable full access to prints for advanced print techniques, such as core modeling and adding metal, electronics, and other material inserts.
Industrial Workbench: A solid hardwood work area with 12 industrial drawers and cabinets for useful additive manufacturing tools and materials storage.
The 3DP Workbench will be officially released by the end of Q1, 2016.
A live, on-going demonstration of the 3DP Workbench will take place at the 28th Annual Additive Manufacturing Users Group (AMUG) Education & Training Conference, April 3 - 7, 2016 At St. Louis, Missouri.  
For more information, visit www.3dplatform.com.