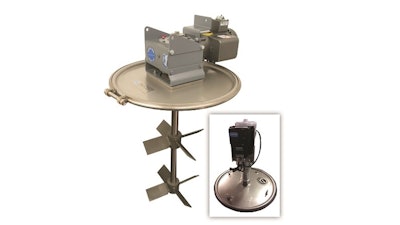 When standard designs are inadequate for the mixing application at hand, INDCO (New Albany, IN) engineers can develop custom mixing solutions. Working closely with customers to fully understand the desired process outcome, materials and site-specific constraints, engineers can define design elements for a successful mixing system. All components are carefully considered, including impeller type and size, motor horsepower and speed, weight, resulting flow throughout the vessel, materials of construction, and more.

The company recently designed a customized mixer to fit for an IBC tote with a drum-sized opening. Weight and size were key considerations, as were lifting requirements unique to this facility. INDCO engineers further ensured that the unit had sufficient horsepower and torque output for the range of operating volumes and liquid properties without inducing vibration at critical speeds. Close collaboration between customers and INDCO's engineering team, attention to detail, and immediate response times, are critical to the success of custom mixer projects.
All INDCO products are made in the USA with industry leading warranties and lead-times. In addition to custom mixers, they manufacture a full line of standard mixers. Their team of mixing engineers are available to provide selection and application assistance.
www.INDCO.com, 800-851-1049