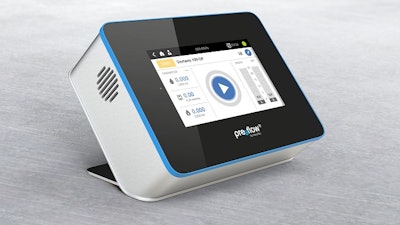 It has been one year since the eco-CONTROL EC200 2.0 hit the market. ViscoTec (Töging, Germany), is proud to announce the control unit now has the ability to handle 2-component dispensing. The main goal of this product development was to provide customers with an all in one unit that offers highest flexibility of operation and control.
Hardware and software management is the basis of this new control unit. Customers are now able to adapt their control unit for new/changing dosing requirements/production parameters long term by purchasing the relevant license.
The eco-DUO dosing system control permits precise dispensing of two-component substances in the desired mixing ratio and with repeat accuracy. Users have the choice between gravimetric or volumetric mixing.
The control unit offers dosing pressure monitoring as well as temperature monitoring. Customers that use the 2-component dispenser with the flowplus-SPT M6 can connect it directly to eco-CONTROL EC200 2.0 and start dosing as a closed loop system immediately. It is also important to note that the new control unit supports manual rinsing of 2 components – flow rate and quantity can be set manually.
The dosing pressure is displayed as a bar graph and the pressure trend is displayed in a diagram. After an upgrade is carried out, customers with a 1-component control unit will also be able to work with a dosing monitor in the future. Pot life monitoring now has a blank shot function and enables any flow rates and quantities.
If you want to monitor the application and the metering pressure curves of beads, you can do this with the aid of the envelope curve, among other things. Active and passive edges can be displayed in the control box mode. If the user is focussed on dot-dosing, the display is integral. Rising/falling edges of the dosing pressure can be illustrated by selecting/de-selecting a checkbox, which ensures precise monitoring.