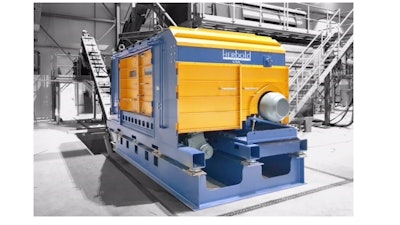 The new EWS 60/210 from Herbold Meckesheim USA (Smothfield, RI) is a single shaft shredder for the pre-shredding of baled, bulky or other hard to process plastics including film, agricultural film, mixed plastics and die drool. Designed for high volume applications, it features a 23½" diameter rotor and boasts an impressive 3 ton/hour throughput capacity. Wet or dry shredding capability provides maximum versatility.
In operation, large items or bundles are fed into the unit's hopper by a forklift or optional infeed conveyor. The material falls onto the rotor and a feed guide device helps it maintain positive engagement with the rotor for maximum shredding efficiency.
Because the EWS 60/210 is often used in the first stage of a plastics recycling line where foreign bodies are often present, special care has been taken to create a well-protected rotor with bolted armor plating to eliminate the need for frequent re-welding. An integrated clutch mechanism protects the rotor and other key components if an unshreddable foreign body should enter the destruction chamber.
To facilitate routine maintenance, the shredder has been designed with easy access to all components including the rotor, waste screen, flywheel and belts, and more.
www.herboldusa.com; 401-597-5500