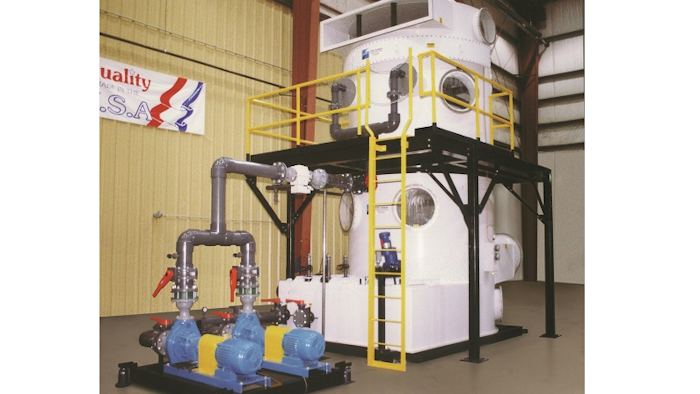 Tri-Mer Corporation (Owosso, MI) has introduced a standard line of packed tower scrubbers for handling fumes from the venting of bulk storage tanks, and the off-gases vented during tank filling. Tri-Mer Chemical Storage Tank Scrubbers (aka "CST scrubbers" or venting scrubbers) are packed towers that reduce emissions of hazardous or corrosive vapors. The systems use Tri-Packs tower packing, which provides maximum surface contact between gas and scrubbing liquid. This optimizes scrubbing efficiency, and minimizes the depth of packing depth needed for effective operation. Benefits include:
The distinctive shapes of Tri-Packs' ribs, struts and drip rods, providinig superior wetting characteristics and low pressure drop; highly uniform liquid distribution is maintained throughout the tower.
Significant reductions in both clogging, (there are no flat surfaces or minute openings to harbor particulate) and puddling (because it's free of corners and valleys, and minimizes liquid flow down the wall surfaces.)
The prevention of dry spots and compression interlock, two phenomena common to traditional packing media. Both conditions cause liquid and air channeling and diminish the efficiency of the scrubber.
Systems are engineered to the application, in capacities of 200 to 50,000 acfm.
www.tri-mer.com; 989-723-7838