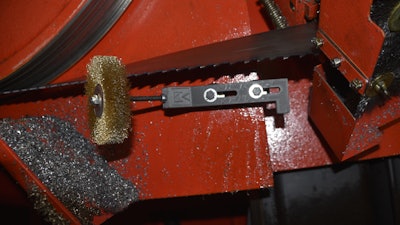 The M. K. Morse Company (Canton, OH) has released the Tooth Brush, a magnetic chip brush that helps to ensure optimal cutting conditions when using an industrial band saw blade.
The patent-pending design features 11 brush configurations to fit virtually every saw on the market and efficiently clear chips from blade teeth gullets.
Made with a long-lasting brass brush, the Tooth Brush is built for durability and easy to install on all machines. It is a convenient, affordable option to replace expensive and inflexible OEM brushes.
The assembly includes a 4" 300-micron brass brush, two 50 lb. magnets with anti-skid covers, and a pack of hardware – bolts, nuts, washers, and a sleeve.
www.mkmorse.com, 800-733-3377