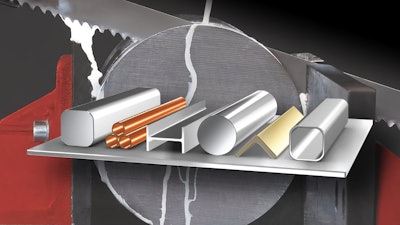 The L.S. Starrett Company (Athol, MA) offers the newly positioned Intenss Bi-Metal Band Saw Blades for general purpose metal sawing of a wide range of materials and shapes.
Featuring a patented process developed by Starrett called bi-metal unique technology, that provides 170% more weld contact with the teeth, Intenss blades exhibit superior resistance to tooth strippage, significantly reducing fracture and breakage, which enables exceptionally long blade life. Performance is further enhanced by M-42 teeth with a multi-edge tooth design that produces split chips for faster cutting.
Starrett Intenss Bi-Metal Blades are available in 1/2", 3/4" and 1" widths and .025" and .035" thicknesses, featuring bi-metal unique. Blades in 1-1/4" or 1-1/2" widths and .035" and .042" thicknesses are also available, without the bi-metal unique feature. Intenss blades are offered in pitches of 10, 14 or 18, and 2-3, 3-4, 4-6 and 5-8 variable pitches. Coil lengths are available in 100' (30m), 150' (45m) or 250' (75m), depending on blade widths.