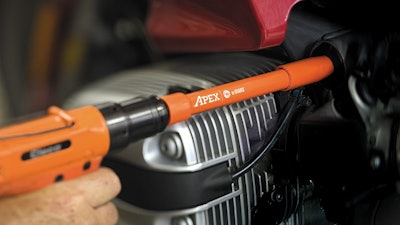 Patented u-GUARD anti-mar covers from Apex Tool Group, LLC (Dayton, OH) provide a protective barrier between genuine APEX fastener tools and the finished workpiece on a production line, delivering protection against in-system damage. Advantages include:
Low durometer, thermoplastic urethane material that resists dents during incidental side impacts.
The ability to absorb side impacts, and does not produce raised burrs when impacted.
A non-removable cover to prevent tampering on the line.
Low sustained coefficient of friction between the cover and the tool produces minimal loss of tool efficiency.
Signature orange color, making fastener contact easier and station monitoring smoother.
Part numbers clearly marked for ease of identification.
The product line has grown to include u-GUARD gap covers which eliminate the gap between a socket and an extension or between the right-angle power tool and a socket extension, improving operator safety.
www.apex-tools.com; 800-845-5629