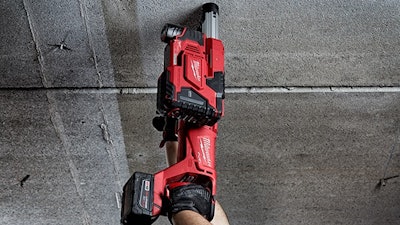 Milwaukee Tool (Milwaukee, WI) has build upon its current M12 Universal HAMMERVAC Dust Extractor and M18 Dedicated HAMMERVAC designs with an updated dust box. Both HAMMERVAC units utilize a replaceable HEPA filter for efficient debris filtration. An updated dust box will allow users to easily clean the filter with the press of a button. Per HEPA standards, the certified HEPA filter removes 99.97% of particles greater than 0.3 µm. However, the M12 Universal HAMMERVAC and M18 Dedicated HAMMERVAC feature unique replaceable filters so users can replace the filter independently of the dust box to cost-effectively maintain suction efficiency. By pressing a button twice on the side of the unit this filter cleans itself every time users empty the dust box. Features include:
Compatibility with all major power tool brands of SDS Plus Rotary Hammers and AC/DC Hammer Drills.
Three sizes of side handle collars that the user can adjust to fit the tool securely.
An in-line design engineered to connect directly to, and be powered by, the M18 FUEL™ 1" and 1-8" SDS Plus Rotary Hammers.
As the new OSHA regulation on respirable crystalline silica dust continues to create the framework for a safer jobsite, Milwaukee Tool is dedicated to continuing to expand its Dust Extraction System.
www.milwaukeetool.com; 800-SAWDUST