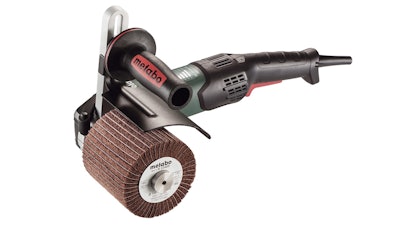 Metabo (West Chester, PA) offers their SE 17-200 RT Ergonomic Rat-tail Burnishing Machine. Features include:
Applications can include grinding, burnishing, polishing and creating finishes on stainless steel.
A 14.5-amp motor with extended carbon brush life and VTC, which is Metabo's exclusive technology that maintains RPM under load.
An adjustable thumbwheel and planetary reduction gear for working speeds of 800-3,000 RPM using belts and wheels ranging from 40 to 2,000 grit. It can also fit up to an 8" polishing buff.
A rat-tail design and tool-less adjustable guard and top handle that help improve ergonomics.
Overload protection keeps the motor from overheating.
Restart protection that protects users from accidental start-up after power has been interrupted.
Accepts 3/4" keyed or 5/8" - 11 accessories and comes standard with a steel carrying case, expansion drum, three 80-grit zirconia belts, an 80-grit flap wheel, a 180-grit interleaved flap wheel and a 280-grit non-woven nylon wheel.