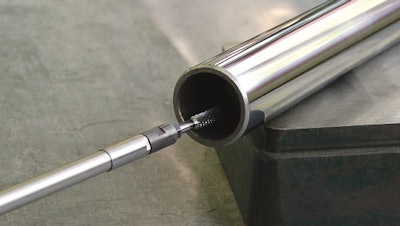 Suhner
With a redesigned pneumatic drive, the LRC 20 from Suhner (Rome, GA) now offers a set of hand tools that can grind, mill, and polish places that previously could be accessed only with great difficulty, for example, the leading edges and corners of impellers or the insides of narrow pipes. Features include:
20,000 rpm for user handwork.
A slender and maneuverable design that fulfills safety, ergonomic, and energy efficiency requirements in industry.
Quiet operation -- under full load, the sound pressure level is 69.5 dB.
A centrifugal governor that regulates the speed and saves an average of 20% of the compressed air needed for conventional air tool technologies.
Exhaust air that is directed backwards, protecting the work surface from lubricating oil and reducing noise levels even further.
Optional 13-mm (D) matching extensions, powered by a flexible shaft, that can be attached to the machine for each application.
With a handle, the extension elements (125, 250, 500, 1,000 and 1,500 mm lengths) can be fitted directly onto the LRC 20 drive unit.
Extension elements that can also be bent through 45° to reach the deep pockets and corners on workpieces.
For more information, visit www.suhner.com, or call 706-235-8046.