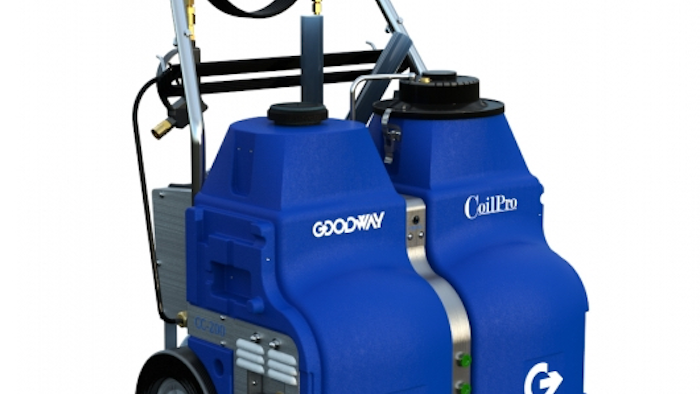 Goodway Technologies offers its CoilPro CC-200 two-in-one coil cleaning solution with a more powerful vacuum for removing dust and dirt prior to cleaning. Additional features include: 
A two-step process using one tablet to clean and another bio blasting tablet to help protect against odor and deliver better indoor air quality. The tablets are dropped in the CoilPro CC-200 and dissolve by attaching the system to a water source for continuous cleaning, or there is an 8-gallon, built-in water tank for portable cleaning
The safe-on-coils pressurized water system includes evaporator and condenser coils on indoor and outdoor units.
The wet/dry vacuum can be used to clean dry coils prior to cleaning or to remove water residue after the cleaning is complete.
A 200 PSI, 0.9 GPM coil cleaning pressure.
100 CFM wet/dry integrated vacuum system with seven-gallon capacity.
For more information, visit www.goodway.com