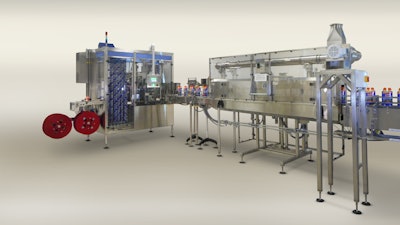 PDC International (Norwalk, CT) has introduced the R-300 Aerosol Twin Packer Shrink Sleeve Applicator for aerosol food packaging and similar applications. Features include:
Can quickly reconfigure from a shrink labeler to multipacker, and back again.
Product counters are integrated at the infeed and discharge of the shrink tunnel. They detect fallen containers and tunnel jams so they can be quickly cleared without incident.
Auto-lift Tunnel Stands lift the shrink tunnel away from the conveyor automatically, removing the heat source from around the aerosol package to avoid can explosions.
Compatible with rigid packages, cartons, bottles and cans, and for container sizes ranging from two ounces to a gallon.
It replaces the quick-dulling "spinning knives" typical on other sleeving machines with a proprietary heavy-duty knife assembly.
A Zero-Downtime Splice-on-the-Fly Accumulator for roll changes to improve uptime.