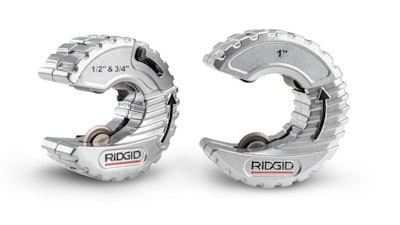 The new RIDGID (Elyria, OH) C-Style Close Quarters Copper Tubing Cutters are perfect for cutting tubing in tight spaces: the cutters cut three sizes with only two tools. The ½-inch and ¾-inch combined tubing cutter has a quick-change feature that allows easy switching between the two sizes, with the second cutter designed for 1-inch tubing. Benefits include:
A spring-loaded cutter wheel that provides constant pressure on the tubing and features the RIDGID X-CEL Wheel Pin for quick wheel replacement without tools.
Slots added around the outside of each cutter for a flat head screwdriver to advance and rotate the tool where access is limited.
The RIDGID Full Lifetime Warranty.
www.RIDGID.com; 800-769-7743