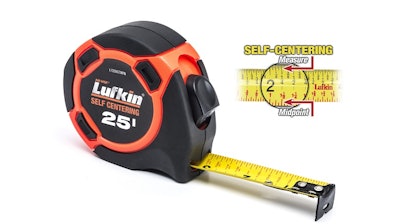 Apex Tool Group's Crescent/Lufkin (Sparks, MD) has introduced a redesigned version of its popular Self-Centering Tape Measure, which makes finding the midpoint of measurements quick and easy. Benefits include:
A new dual-material co-molded ergonomic case for added comfort.
A quad-rivet end hook for extended blade life.
Unique blade markings, resulting in a tape that takes the math out of finding the midpoint of any measured distance. A black upper scale shows the actual measurement; a lower scale directly beneath it shows the midpoint in red. For example, if the upper scale reads 2-1/4", the lower scale will show 1-1/8".