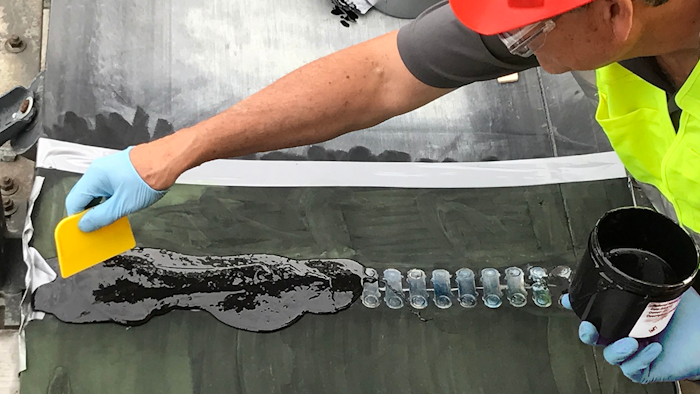 The new Devcon R-Flex Belt Repair Kit from ITW Polymers Adhesives North America (Danvers, MA) can be used to coat splice clips on styrene-butadiene rubber (SBR) conveyor belts, protecting them from damage and preventing them from catching on wiper systems. The kit contains everything needed to make rapid repairs to damaged heavyweight conveyor belts, allowing their return to service in 90 minutes. Benefits include:
An easy-to-mix hybrid polymer, formulated for increased flexibility to withstand flexing of clip splices.
The ability to be used to repair holes, tears, gouges and damaged cold vulcanized splices, and to protect hinged and solid plate fasteners.
Longer open times in hot climates and improved resistance to crack propagation.

 

The ability to produce a tough monolithic surface that protects clip splices and prevents damage that exposed metal clips can cause to wiper systems. In fact, R-Flex has been field-proven to extend the life of belt repairs, reducing subsequent damage to the belt and other equipment, the frequency of repairs, and plant downtime.
It can be applied over pulleys as small as 10 inches in diameter, self-levels in just 3 minutes and provides superior long-term adhesion and abrasion resistance.
www.itwadhesives.com; 855-489-7262