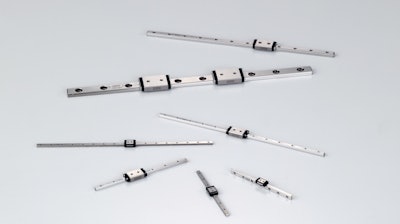 Expanding its LWL family of miniature guides, IKO (Parsippany, NJ) introduces its LWLF2 linear motion rolling guide, which addresses the demand for device miniaturization with a compact, lightweight design that makes mounting easy in tight spaces.
The new LWLF2 features the same ultra-small 2.5-millimeter height dimension as its predecessor, the LWL1. It is also designed with tapped rails for bottom mounting and stability. As part of IKO's LWL family of miniature rolling motion guides, the LWLF2 guide is structured with two rows of balls that make contact with the raceway at four points to provide high stability and accuracy — even in applications with varying load direction or complexity. Additional features of the LWLF2 include:
Compact size. In addition to its 2.5 millimeter sectional height, the LWLF2 has a track rail width of 2 millimeters and slide unit width of 5 millimeters.

Corrosion resistance. Stainless steel construction is standard, making the new guides desirable in wet environments and applications where rust prevention oil cannot be used, such as in a cleanroom environment.

Light weight. The LWLF2's rail weighs 2 grams per 100 millimeters of length, and the slide unit weighs 0.21 grams.
IKO's LWL family of miniature linear motion rolling guides is appropriate for robotics and grippers, semiconductor fabrication, life science and aerospace applications.