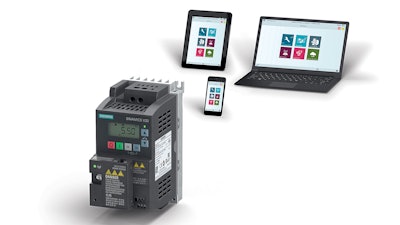 Siemens
Siemens announces the launch of its Sinamics V20 Smart Access web server module, designed to mount directly onto the drive, transforming a mobile device or laptop into a virtual operator panel for drive control. By providing a wi-fi hot spot, the wireless connection on this module facilitates setup, programming, commissioning, production monitoring and maintenance on a variety of machines and production equipment.
A simple, embedded graphical user interface (GUI) enables easy use of the Sinamics V20 in every phase of operation. No separate app is required, nor is a written operator manual needed, making operation of this new server module and subsequent drive control highly intuitive and easy-to-learn.
Smart Access provides convenient access to the Sinamics V20, up to 100 meters away, even when the drive is located in difficult-to-access installations. Utilizing WPA2 security, the web server module offers full flexibility with both iOS and Android operating systems, along with commonly used HTML5-capable web browsers such as Chrome, Safari, Internet Explorer and others.
A built-in, multi-color LED provides quick communication status readout. Security features enable limit / restrict operator access and control functionality.