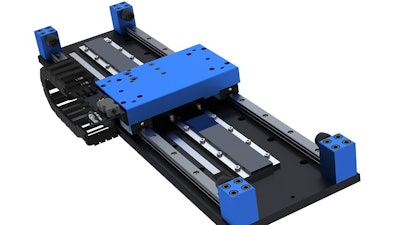 The Drives & Motion Division of Yaskawa America, Inc. (Waukegan, IL) has announced the introduction of Sigma Trac II series linear servo motors stages to the Sigma-7 servo family. Sigma Trac II combines a Yaskawa SGLF2 series linear motor with linear bearings, high resolution absolute optical scale, cable management and optional bellows to create a turnkey linear stage. Leveraging the industry-leading performance of Sigma-7 servo amplifiers, system designers and automation end users can design smaller, faster more accurate linear motion systems for additive manufacturing, packaging, material handling, machining and assembly applications. Features include:
Peak force output up to 540 N.
Speeds up to 5 m/s.
High reliability with 10 million double-stroke design life.
Absolute encoder feedback with 9.765 nm resolution.
Zero maintenance.
Integrated cable management.
Stroke lengths up to 1340 mm.
Optional bellows and X-Y adapter kit.
www.yaskawa.com; 800-YASKAWA