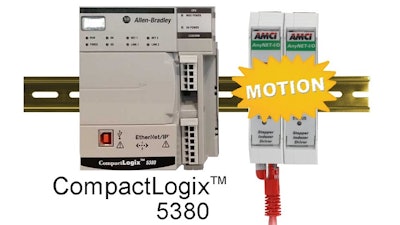 Advanced Micro Controls Inc. (AMCI; Terryville, CT) announces its ANG1(E) integrated stepper controller/drive that connects directly to Rockwell Automation's new CompactLogix 5380, providing a low cost, sophisticated motion control solution. Features include:
A "2-in-1" product design that integrates a stepper controller and drive into a single package, significantly reducing cabling with the ability to expand up to 6 axes of motion over a single EtherNet/IP connection.
Easy programming of move commands through Studio 5000.
Standard DIN rail mounting for easing installation.
AMCI designs and manufactures its products in-house, enabling superior quality and innovative solutions. The company has been a Rockwell Automation Encompass Product Partner for over 25 years, and develops motion control products for Allen-Bradley PLCs using Rockwell Automation Enabled technologies to ensure 100% compatibility with Allen-Bradley PLCs and PACs.
www.amci.com; 860-585-1254