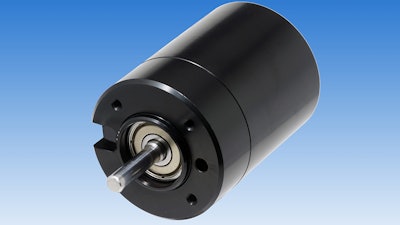 Allied Motion Technologies
Allied Motion Technologies (Amherst, NY) has introduced the KinetiMax 42 EB, a 42-mm diameter outer rotor, brushless DC motor with an integrated drive. The KinetiMax 42 has a bearing system capable of handling high side loads. Features include:
A minimum operating life of 20,000 hours.
An integrated speed control loop with speed set input to adjust motor speed from 150 to 5,000 RPM.
An external rotor and iron-core stator that minimize cogging and maximize output torque.
Thermal overload protection with automatic recovery, and reverse supply voltage protection.
70 mNm rated torque and 31 W output at 4,300 RPM.
A 6-wire version with tachometer output (18 pulses per rev) for speed monitoring, speed input and direction input.
Choice of 12 or 24 VDC winding.
IP54-rated protection.
Low EMI (complies with EN55014-1/2, 61000-6-1/3).
Options include customized shaft, mounting flange, leads and connector configurations, and special winding voltage rating.
For more information, call 716-242-7535; or visit www.alliedmotion.com.