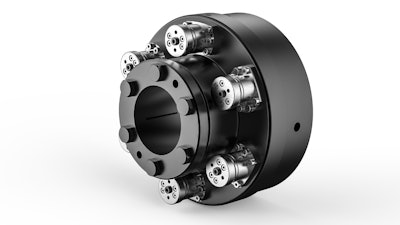 R+W
R+W (Bensenville, IL) has introduced a new smaller ST series safety coupling to further bridge the gap between the precision and industrial safety products. The STN is now available in a size 2 and size 5 for applications requiring lower disengagement torques with a more robust full disengagement design. Additional features include:
A ball-detent safety element system.
Driving and driven ends separate within milliseconds of a torque overload, reducing repairs and down times. 
A driveline free to coast to a stop after disengagement — re-engagement requires that a force be applied to the back sides of the plunger modules, either with a soft hammer or pry bar.
Disengagement torque values adjustable in the field — multiple ranges are available depending on the module configuration.
An output flange that can connect to a pulley or sprocket. 
Shaft to shaft connection methods are available with either bellows, disc, elastomer, or gear coupling designs.
For more information, visit www.rw-america.com.