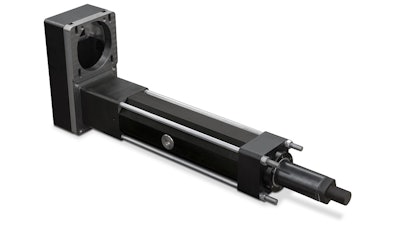 Tolomatic
Tolomatic's (Hamel, MN) new RSX hydraulic-class electric linear rod actuator meets the need for extreme forces and is suitable for replacing hydraulic cylinders. Designed and tested for 100% duty cycle, the actuator's roller-screw drive ensures long, consistent life. Additional features include:
Applicability in pressing, punching, stamping; riveting, fastening, joining; injection molding; and sawmilling.

A capability of 50,000 lbf/222.5 kN or higher — the RSX-096 (initial offering) is capable of 30,000 lbf.

A heavy-duty construction that includes tie-rods and

Type III hardcoat anodized aluminum or zinc-plated steel.

A standard anti-rotate feature that prevents the rod from rotating without external guidance.

Rated IP67 for

resistance to water from a light washdown and

dust from outdoor environments. Rated for extreme conditions including cold-weather operation.

The ability to add servo motors and gearboxes up to 215mm frame size

.

An access port for re-lubrication.

A breather/purge port to prevent ingress into the actuator.
For more information, visit www.tolomatic.com; or call 800-328-2174.