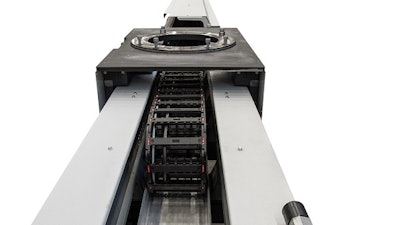 ABB Robotics
ABB (Auburn Hills, MI) has introduced the IRBT 2005, a flexible, compact, and modular medium track motion platform for both robots and transfer applications. It is designed to accommodate rapid product changes in applications that require an extended working range and high degrees of speed and accuracy, including arc welding, material handling, machine tending, and sealing and dispensing. Additional features include:
Up to two carriages as a robot track, with additional carriage plates available to carry any necessary process equipment.
Up to three carriages as a transfer track.
One-meter lengths that can be connected to form a track between two and 21 meters, allowing it to be adapted to different applications and evolve with changing production needs.
An IRC5 controller that runs the robots and the IRBT 2005 together as one dynamic model, with the proprietary QuickMove and TrueMove functionalities.
Guaranteed high speed and precision accuracy, providing flexibility and up to 50% shorter cycle times.
Availability in two variants, standard with covers on the rails and rack only and fully covered.
The ability to accommodate the IRB 1520, IRB 1600, IRB 2600, and IRB 4600.
A a max payload of 1,200 kg (2,640 lbs.).
For more information, visit www.abb.com/robotics, or call 248-391-9000.