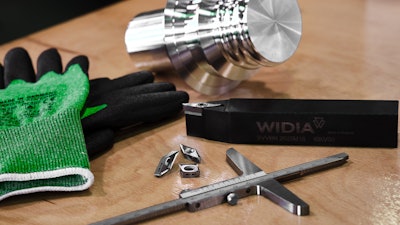 WIDIA
WIDIA (Latrobe, PA) has added an AL Geometry to its ISO Turning portfolio, strengthening its offering of tooling solutions for small to medium sized machine shops, machining aluminum and non-ferrous materials.
The AL Geometry insert is offered in two grades:
Uncoated microfine carbide WU10HT grade
PVD AlTiN coated grade, WU05PT
Each grade is available in all popular styles, including C, D, R, T, and V inserts to increase customer tooling options.
The AL Geometry insert offers additional benefits:
A highly polished rake face improves chip flow, resulting in shorter set up times due to less manual retrieval of chips following each cut.

A sharper cutting edge to increase overall tooling precision and reduce cutting forces.
Reliable tooling performances means customers can dedicate more time to machining and less time to post-machining deburring operations because of the reduction in built-up edge.
The AL Geometry is the universal solution for customers seeking lower cutting forces, extended tool life and greater tooling productivity when machining a variety of non-ferrous workpiece materials, particularly aluminum.
Orders for new AL inserts and other WIDIA metal cutting tooling can be placed through any WIDIA authorized distribution partner.