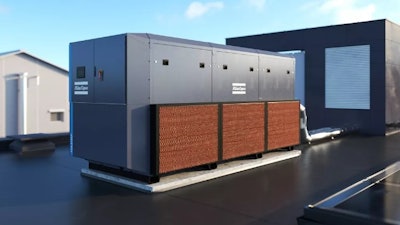 Atlas Copco
Atlas Copco (Rock Hill, SC) announced the launch of its TCA water chiller range featuring four new versions.
With its patented adiabatic pre-cooling system and a free-cooling section, the four-model TCA55-215 plug and play industrial water chiller range offers:
Cooling capacities from 55 to 228 kW
Scroll compressors in a twin circuit configuration
Air-cooled microchannel condensers
Integrated hydraulic module
The TCA55 to 215A process chiller range comes in four configurations, comprising TCA-A, TCA-AF, TCA-AD and TCA-AP variants.
The A models provide:
Industrial robust construction
Operational reliability
AF and AP versions feature the option of free cooling (using colder ambient air to perform cooling).
All four TCA variants include the option of a built-in hydraulic circuit with integrated buffer tank and single or double pumps, for primary/back up, which operate across cooling systems requiring resistance of 42 or 72 psi working pressures.
TCA55-215 series chillers can be installed primarily in outdoor locations.
The TCA55-215 range is equipped with an Elektronikon Mk5 Touch controller and a regulation system designed to maximize the chiller's performance under a variety of climatic conditions.
The Elektronikon Touch controller also provides an opportunity to regulate inlet or outlet hydraulic circuit water temperature within a predefined band with a state-of-the-art level of precision.
Another feature which the TCA chillers have adopted from air compressor design is the Atlas Copco SMARTLINK cloud-based monitoring system, which brings Industry 4.0 enabled features to the industrial cooling market.
SMARTLINK features:
Online monitoring of the chiller unit's main working parameters
Early warnings of any problems or upcoming maintenance needs
Makes recommendations for optimization and energy efficiency