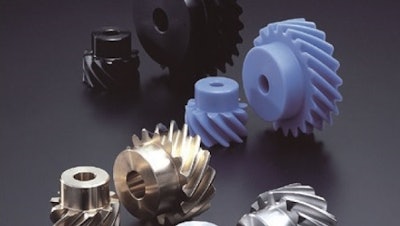 KHK USA Inc. (Mineola, NY), distributor of the KHK brand of metric gears, announces its extensive line of metric screw gears, manufactured to the highest quality standards by Kohara Gear Industry Co., of Japan. KHK's large selection of screw gears are suitable for a very wide range of applications, including conveyors with light loads and are offered in many materials, modules and numbers of teeth. Specifically:
KHK stock screw gears are available in economical S45C carbon steel, as well as rust resistant SUS303 stainless steel which is suitable for washdown applications including food machinery.
Models made from corrosion-resistant and wear-resistant CAC702 (formerly AlBC2) aluminum bronze are also available.
The KHK catalog of stock screw gears also includes lightweight MC901 Nylon screw gears that can be used without lubrication. KHK can also produce screw gears from other plastic materials, including Ultra High Molecular Weight Polyethylene (UHMW-PE), which has excellent abrasion resistance.

Orders as small as one piece are acceptable and will be produced as a custom-made gear.