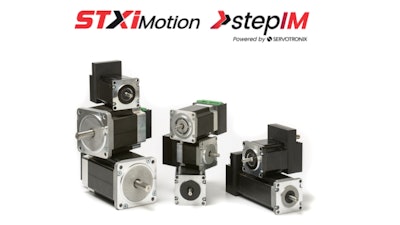 STXI Motion (North Aurora, IL) has introduced the stepIM NEMA 17 EtherCAT model, the newest addition to its family of integrated closed-loop servo stepper motors. The IP65-rated stepIM NEMA 17 delivers an efficient and economical solution for applications requiring the performance of a servo at the price of a stepper.
With a cost-effective design and a superior closed-loop servo control by Servotronix Motion Control, the stepIM closed-loop servo stepper is available in three sizes: short (97.4 mm motor length), medium (105.9 mm motor length) and long (120.4 mm motor length).
The stepIM significantly enhances the performance of stepper motors when compared to conventional open-loop control, says the company. The integrated electronics control the stepper motor as a two-phase BLDC motor, implementing position servo loop, velocity loop, DQ current control, and additional algorithms. Closed-loop commutation, by means of an absolute singe-turn encoder, ensures optimal torque utilization at any speed.
www.stxim.com, 630-408-7033