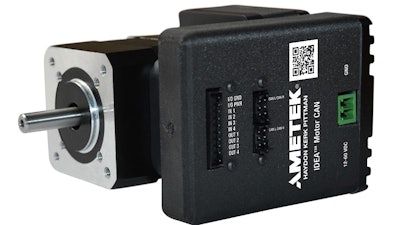 Haydon Kerk Pittman (Harleysville, PA) has announced the latest addition to its popular line of brushless DC motors: the EC042B IDEA Motor Series now available with CANopen communication-enhancing motion control capabilities. This revolutionary new product combines exceptional performance with convenience and value, saving design engineers time, money and space. Specifically:
Save time using a pre-engineered, factory-configured and tested servo system. Immediately generate complex precise motion sequences by using our free Graphical User Interface that provides an intuitive programming environment to quickly develop, save, and debug complex motion sequences. Since the connections between the drive and motor are made internally, users can simply connect power, optional I/O connections, and communications, and the IDEA Motor is ready to operate.
Save money and space by utilizing the IDEA Motor's integrated package of motor, drive and feedback connections in a compact and programmable unit. A single motor/drive unit reduces motion system components by up to 75% per axis and simplifies machine troubleshooting.

You can achieve further reductions by wiring sensor inputs and control outputs directly to the IDEA Motor, rather than through a control cabinet.
www.haydonkerkpittman.com; 267-933-2105