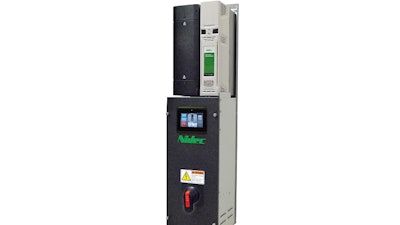 The Nidec Control Techniques (Minneapolis, MN) HVAC Drive H300 packaged solutions with electronic bypass with HMI, provides touch screen access to drive and bypass options, status information and Hand/Off/Auto control. According to the company, the HMI screens provide a quick, easy-to-understand interface for system status and operating modes. On-screen help provides users with feature definitions and setting recommendations. Features include:
Reduce installation time with a setup wizard for motor nameplate data entry for easy motor nameplate data entry and selection of system operation preferences.

Damper control and automatic transfer to bypass on VFD fault, providing the flexibility to meet the most demanding installations without adding options. These FPCs are highly reliable Fan and Pump Control packages that feature a three-contactor electronic bypass control.

Standard Fieldbus communication including Modbus RTU, BACnet, Metasys N2 and Ethernet.

Additional I/O, PID and Macro programming. All bypass packages come standard with a 2 year warranty.
www.controltechniques.com