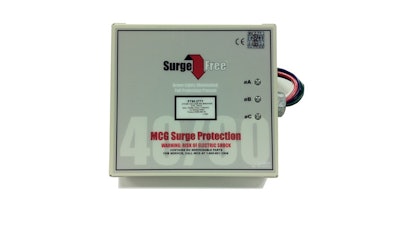 MCG Surge Protection (Deer Park, NY) recently introduced the PT Series of AC Power Line Protectors that now meets UL 1449 4th Edition specifications. Space-efficient, yet packed with the latest technology, the PT80 contains high peak current fuses and large thermally protected varistors that provide both reliable and safe protection from transients. The units are ideal for use on local and branch service panels, generators, transfer switches, dedicated equipment and OEM equipment. The PT80-480D is used extensively in water/waster applications. Features include:
A set of relay contacts for remote monitoring.

LED status indicators.
A rugged NEMA type 1 powder coated steel enclosure.
Optional NEMA 4X outdoor rated enclosure in two kit sizes with a clear, hinged cover to allows viewing of protector status without opening unit.
www.mcgsurge.com; 800- 851-1508