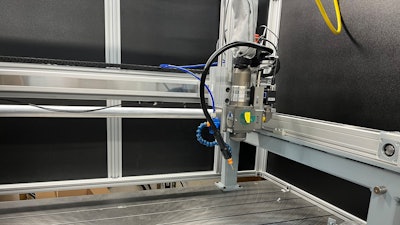 Belt Technologies, Inc. (Agawam, MA) is announcing a major investment in new technology with the addition of a laser welding machine. This is the fourth such machine within the western Massachusetts facility, and it will allow Belt to greatly expand their ability to complete welding orders.
According to the company, not only does this new technology enhance its laser welding capacity by more than thirty percent, but it also improves its product quality with state-of-the-art optical systems. The new work cell allows the company to weld parts up to thirty-six inches wide, even for the thinnest of materials, and it creates a weld so precise that it's almost impossible to see on the finished product.

Ideal for stainless steel welding, the laser is contained within a partially automated work cell designed by Belt, including proprietary welding fixtures. The laser cell primarily operates by seamlessly welding the two ends of a metal strip together to form an endless belt, as well as to attach end tabs and other features. The new laser cell can handle a greater variety of belt types and sizes, helping to alleviate capacity constraints at any of the other three stations.
Belt's PureSteel products—including belts, conveyor systems and pulleys—drive productivity with custom automation solutions, complete with engineering support from concept to completion. Through sophisticated engineering, advanced manufacturing processes and unlimited custom designs, their products can suit any application.