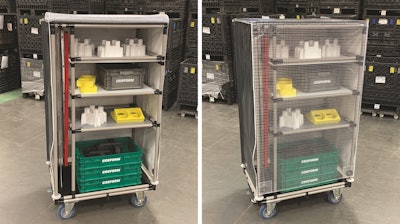 Creform Corporation (Greer, SC) has designed and built a kitting cart fitted with a sewn cover to keep cart and materials clean. The user, in the logistics business, asked for help in developing a kitting cart that could be loaded at their facility and then transferred a short distance by truck to their customer's plant. Creform designed a special four level shelf cart. Specifically:
Each shelf features a solid surface and a pipe lip around the perimeter to ensure that the product stays on the shelf during transit.
The custom cover features magnets to hold it in place while one side can be rolled up to access the cart for loading/unloading.

The cart's dimensions are 26" Deep x 38" Wide x 70" Tall and it is designed to hold up to 375 lb. It is suitable for either manufacturing or warehouse use.

It features four 6 in. diameter casters for easy, stable and safe movement.

The large diameter casters are ideal to facilitate easy loading/unloading.
www.creform.com; 800-839-8823