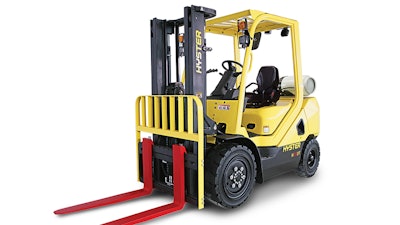 Hyster Company (Greenville, NC) announces its new H40-70UT Series, a sit-down, counterbalanced forklift for customers seeking a practical, cost-effective solution. The 4,000 to 7,000-pound capacity internal combustion engine model is the first in the line of UT Series trucks to be released. It provides customers with an economical materials handling solution that is suitable for less demanding applications while still offering the Hyster quality customers expect. Specifically:
The H40-70UT uses a high-strength overhead guard with profiled steel to provide protection and visibility, while the mast is designed to help minimize blind spots and leave a significant front field of view for operators.

Inside the compartment, a small, 11.8-inch diameter steering wheel is easy to manipulate and comes on a steering column with eight degrees of adjustment to suit the needs of each operator.

Additional ergonomic features include spacious foot room and convenient control pedals to help reduce operator fatigue and increase comfort.